The ramen boils right in front of you!
We will serve you the noodle and lots of veggies in a stone pot that is extremely heated up. We will pour the soup into the stone pot right in front of you. Instantly, the soup gets boiled as if a volcano explodes. We provide you not only a delicious ramen but also an entertainment at the same time with Volcano Ramen.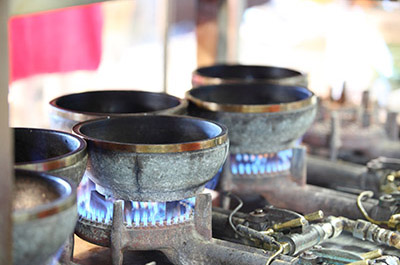 The stone pot is heated up more than 300℃!
The stone pots are heated by a burner up to 300℃. Our kitchen staffs make precise adjustment on the temperature of each stone pot according to the temprature and humidity of the day so that we can serve our customers Volcano Ramen that keeps its heat till the last drip.
280g of fresh vegetable!
7 different kinds of veggies are used in Volcano Ramen. 280g fresh veggies are added, which is 80% of the amount of vegetable ingestion in a day (350g) recommended by Ministry of Health, Labour and Welfare. All veggies are locally delivered to keep the freshness.